Deep planning. Fundamentals. These are not strong aspects of our go-go culture.
I feel very blessed to have had the art instruction I've had, but each step seems to bring with it the realization that there is so far to go. Often the path is not entirely clear.
We can get good, or even pretty good. Let's call that 80%. The grim truth is this; that last 20% is brutal. Perhaps impossible! What to do? Some thoughts...
1. Focus on remaining weak spots. As my friend Thomas Nash says, "if hands are your weakness, study, draw and paint hands". This could be true of anything; color, perspective, composition, concept, business materials... whatever it is... ATTACK IT! Often our response is to avoid confronting these difficult challenges.
2. Seek out what really inspires you. Ask yourself what it is about your favorite art that truly excites you. If you try to break it down into tangible elements, you may be able to bring some of that to your own work. For example if you love Sargent's bravura and brushwork, try copying Lady Agnew's head, just for the learning experience. This is a time honored way of learning, practiced by Sargent himself. Then do some head studies (from life, like the master!). See if you can incorporate the new approach you're studying.
3. Think about key instruction that can help us make the "quantum leaps". Perhaps finding a mentor, or taking a workshop, or working with a book, or taking a trip to study art treasures, or a class, or a degree... there are many ways to learn new things that can really move us forward.
Of course ultimately the goal post will always be just a bit out of reach. That's OK! We will always be growing and learning. Hopefully this process is an enjoyable one as we gain creative fulfillment, and constant improvement. Our dreams may remain like the proverbial mirage of an oasis in the desert. We strive for the unattainable but achieve the best we're capable of, and that may take us far.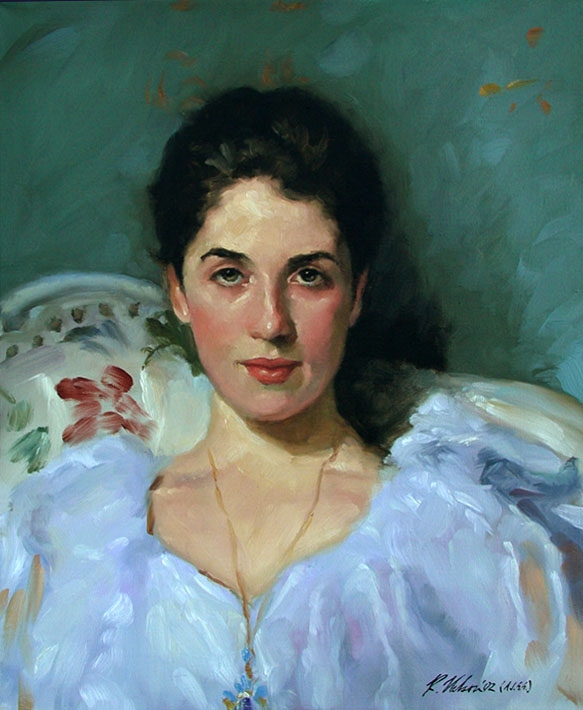 After John Singer Sargent's Lady Agnew 20x16 Oil